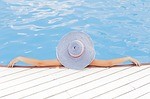 Avoid Holiday Tummy
 I thought I would have a look at the other type of bug that can ruin a holiday – tummy bugs and talk about preventative measures we can take to keep our guts in a healthy state whilst on holiday.  For some people a change in food or water can trigger a stomach upset. Others will often succumb to a stomach bug on holiday and let's face it, losing a day or so of your holiday tied to the toilet is no fun.
GOOD V BAD BACTERIA
So what can be done? Well the main thing that you can do is make it harder for those bad bacteria which cause stomach infections to get a hold and the way we can do this is to take a good bacteria supplement before and during our holiday week. I always used to get a stomach upset on holiday, my husband joked that we had to go away for ten days so he could be sure that I would have a weeks holiday and two or three days with some kind of tummy issues.
However, after a particularly bad trip to Thailand a number of years ago now, I decided to start taking a good probiotic the week before I went on holiday and to keep taking it whilst I was there. The product I use is Higher Nature ProBio Daily. I chose Higher Nature ProBio Daily, because it does not been to be kept in a fridge and will not be destroyed by heat. I take 3 of these a day for the week before we go anywhere and continue to use it all the time we are away and I have to say that it has made a huge difference for me. In the years that I have been using Higher Nature ProBio Daily I have not suffered with one tummy bug in holiday – making family get aways much more fun.
DEAL WITH DIGESTION
The other step I have taken in to also take a Digestive enzyme away with me. The one I use is SuperGest. The reason for this is that many of us in our daily lives tend to eat the same foods each week. When we go in holiday however we get adventurous, trying new and sometimes exotic foods which our digestive system is not used to or prepared for. This in turn can cause some grumbling and upsets from our digestive system. So when we go out to eat on holiday, and even in this country I always take a few SuperGest with me. If I choose a food I would not normally eat, I always now take a couple of SuperGest with that meal. This has helped prevent the tummy aches, wind and bloating that can occur for many after eating new foods and means that I can enjoy eating new things without any fear of repercussions from my guts!