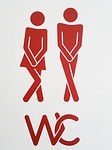 Recurrent Cystiitis?
One problem we are often asked about is recurrent cystitis, I had a lady in today asking whether the was anything that we may be able to suggest to help her find some relief from the recurrent cystitis that has plagued her for the majority of her life. The good news is that recurrent cystitis is one area where we have had a lot of good results over the years so I was able to send her off with some tried and tested remedies and a fair amount of confidence that she may find some relief.
Herbal Help
One of the first herbs we tend to reach for when trying to help people suffering from cystitis is Uva Ursi. This is because a lot of the herbal texts tell us that Uva Ursi has an effective anti bacterial action which specifically targets the bladder and this claim would certainly be backed up by the number of customers who have told us over the years that Uva Ursi has helped stop a Urinary Tract Infection in its tracks. Indeed many people, myself included have seen symptoms clear up within 24 hours.
Whilst the Uva Ursi does seem to be very helpful for the infection itself the other things we need to look it is the recurrent nature of the problem. What we have found over the years is that many people stuck in a cycle of recurrent cystitis really find benefit from using a good probiotic supplement. This is because when you suffer with cystitis you often take an antibiotic to combat the infection. The problem with this is that as well as killing off the bad bacteria which cause the infection the antibiotics also kill off the good bacteria which are needed to keep your urinary tract healthy. Without decent levels of the good bacteria, the bad, infective bacteria can grow back leading to another infection, more antibiotics, less good bacteria and so the cycle goes on. The theory behind taking a probiotic supplement is to replace all of those good bacteria within your urinary tract and hopefully help to prevent the infection returning.
Additional Help
We have seen some very good results with this approach over the years but one lady in particular always sticks out in my mind. She had been suffering with recurrent cystitis for over 5 years, with the infections becoming almost constant. As a result she had spent six months on permanent antibiotics and at the time she came in she was feeling really lousy and the infection was returning again.
We put her onto the Uva Ursi combined with a really high strength probiotic – Solarays Mightidophillus12. We also suggested that she cut sugar out of her diet as much as possible as we believe that sugar feeds the infectious bacteria. She took our advice and was delighted to report a month later that she was free on infection for the first time in years. This happily continued to be the case as well and I can report that this lady had been free of infection for over a year when I last saw her.